In part 2 of our series of homestaging tips, we're focusing on areas of the house that families spend a lot of time and have potential to make a big impact with buyers: the kitchen, family room, & dining room.
Read on for some great tips to help set your home apart from the competition.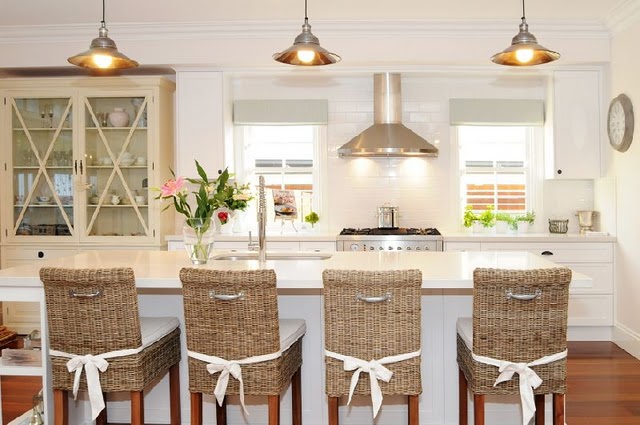 Make sure your kitchen is free of clutter, is tidy, & bright to show off it's full potential
Kitchen:
- No dirty cloths or towels
- Tidy the inside of drawers and cupboards where needed
- Keep counter and island surfaces clear of clutter
- Take away items from above the fridge (such as cereal boxes), microwave, cabinets, and windowsills
- Remove magnets, etc from fridge
- Clean grout of tiles using a grout cleaner or bleach
- Scrub the sink & make sure it is clean and free of dishes
Make eating areas warm & inviting:
add little touches or set the table to make it look ready for guests
Dining Area:
- Remove items that create clutter & refine what decorations you have
- If you have a table with a leaf, make the space feel more spacious by removing it and extra chairs from table
- Clean sideboards and cabinets to showcase a few pieces, not a lot of disorganized clutter
- Dust surfaces
- Consider setting the table to make it look inviting; or simply add some fresh cut flowers and candles in the centre
Sometimes a simple DIY can take a room from 'bla' to 'WOW!'
Family Room:
- Be selective with what artwork and photos you keep on walls
- Make sure pictures are level & dust- free
- Remove clutter & make sure space is tidy and appears spacious
- Especially for small spaces: remove extra furniture that can make the space feel cramped and crowded
- Make sure floors are clean; vacuum carpets, and dust/ sweep hardwood & laminate
- Add storage with a simple weekend DIY using pre- fab shelves and crown molding to really make a statement (see photo above)
We hope you find these tips helpful. If you're thinking about selling your home and need some advice to help it sell fast and for the price you're looking for, we'd love to be the real estate team to help! Contact us today to schedule a meeting and get started.
Image Sources: