Knowing where to invest money into home improvements to increase value is important. Spending money strategically can mean a better return on investment for you when you go to list your home. Just because you spend some of your hard earned money on renovations doens't necessarily reflect in a higher asking price or increased buyer interest. Knowing what areas to focus on is key.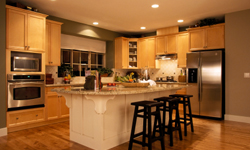 Here are 10 tips to help you get the most bang for your buck.
Some of these suggestions may seem obvious while others will surprise you.
Image Source: http://home.howstuffworks.com/home-improvement/remodeling/5-ways-to-add-value-to-home.htm#page=10