It's Summer- time to enjoy the great outdoors! If you're like us, you enjoy anything that involves a lake: sipping wine, fishing, boating, or simply lounging with a good book.
We're lucky that here in BC we have so much natual beauty and plenty of lakes that are close to home, perfect for day trips (and of course many more better suited for some BC family vacations that require a longer drive, but are well worth the trip!). This Summer, get outside and enjoy all that the great outdoors has to offer!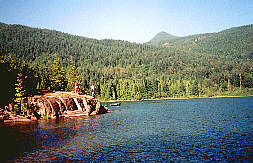 Hicks Lake
Click here to see some of the beautiful lakes that are worth a visit. We live in beautiful BC- now get out there and see where it gets it's nickname from!
Some popular local choices include Allouete, Alice, Buntzen, and Cultus Lake. What's your favourite?
Image Sources: